Dan is a playable character in Smash Bros. Clash. He is a real hero when in combat and is crazy about the Smash Bros. franchise.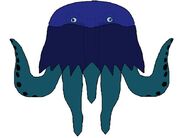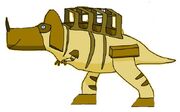 Special Moves
Edit
Neutral: Fire Blast
Side: Ice Shard
Up: Flying Attack
Down: Shockwave
Final Smash: Heroic Steed (Dan summons one of his noble steeds and rides them.)
Giant Millipede: Can trample and bulldoze enemies.
Colossal Octopus: Can grab opponents and throw them away.

Humongodon: Can breathe fire and eat opponents.
Gigantosaur: Lets loose with nature elemented attacks, like Earthquakes, Hurricanes, Infernos, and Tsunamis.
Appearance and Personality
Edit
Dan is an eager, ready to rumble boy resembling a character from the Powerpuff Girls. His clothes consist of a simple blue tank-top, a belt, sheded, blue fingerless gloves with a square cut out on the top, green shorts, and red converse sneaker boots. His hair is blonde, and he has blue eyes. He has a kind disposition and enjoys hanging out with Nintendo's greatist heroes.